Take a Tour of Frames Data Online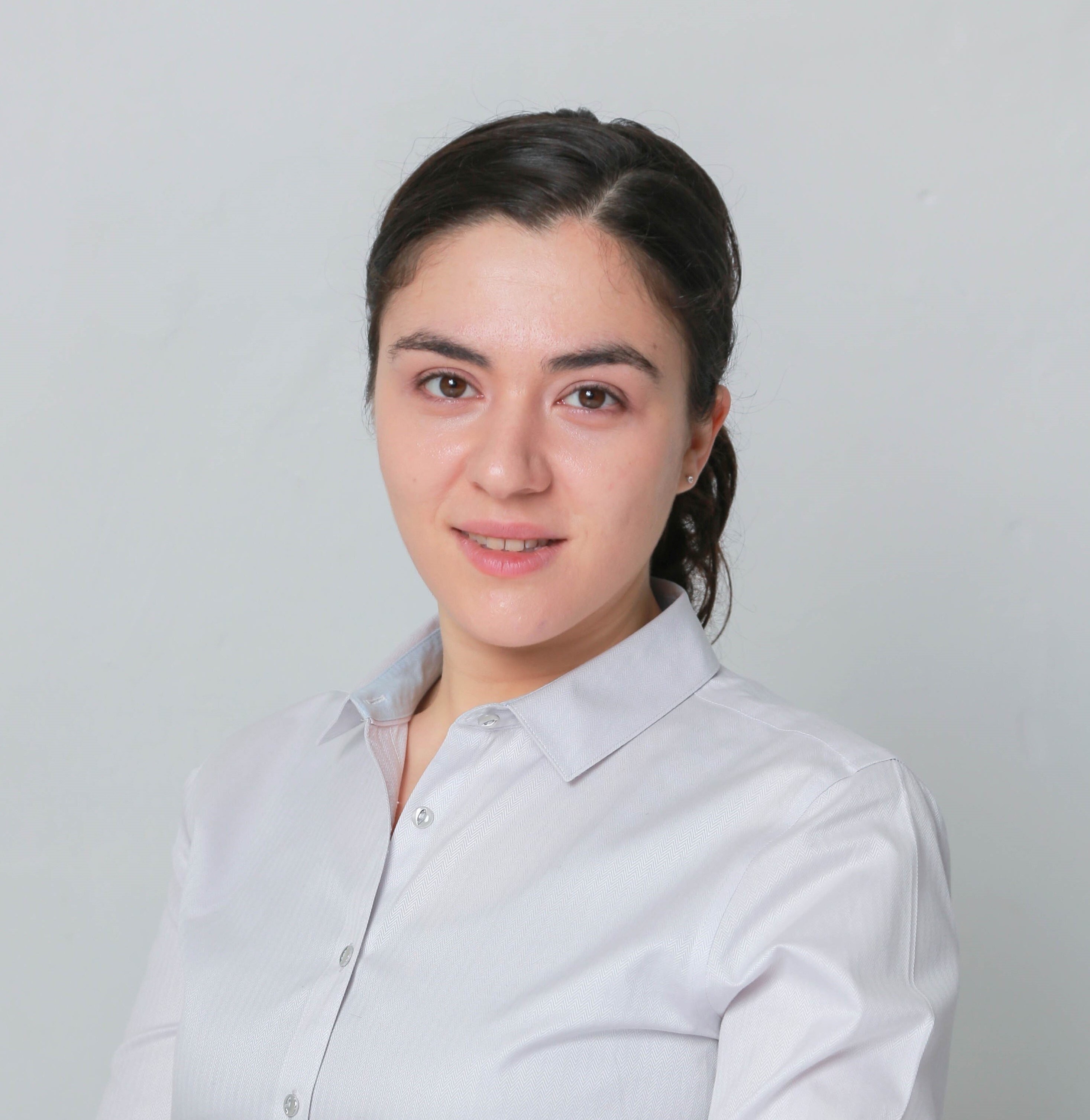 It's included in your subscription — Get to know it, so you can use it to its full potential.
Are you new to Frames Data, or simply new to the website?
Watch the following brief but comprehensive video breakdown of the tools available on www.FramesData.com.
Prefer to skim through tutorials? Click one of the sections here to continue reading below, and breeze through partial clips from the video for some quick visual indicators.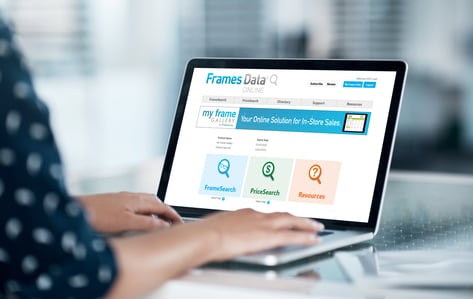 ---
How to get started on Frames Data Online: A Comprehensive Overview
---
How to log in
To access the majority of Frames Data Online's tools, you must have an active Frames Data subscription ⁠— luckily, any of our products count. Find the username and password fields next to the blue login button where you can enter your credentials, usually located on the top right of framesdata.com or the middle of the page.
Still need to subscribe? If you're ready to sign up, click here.
Already have an account, but not sure what your login information is? Reset it here.
Homepage & Nav Bar
The Frames Data Homepage offers a number of useful components. Once you log in, you'll see your account or accounts along with their expiration dates in the middle of the page.
If you're a SPEX UPC user, look for the blue "Download Now" button in this section to access your monthly files (hint: the Resources section contains instructions on what to do after you download those files!)
Navigation Bar Details
Stay tuned ⁠— we'll be releasing detailed new video tutorials on how to use Frames Data Online's search tools soon!
FrameSearch
To quickly find accurate frame information, use the search engines on Frames Data Online. With FrameSearch you can look up frame details by any of the following:
style
collection
brand
manufacturer
UPC code
Alternatively, use the search filters to specify certain parameters while browsing the database.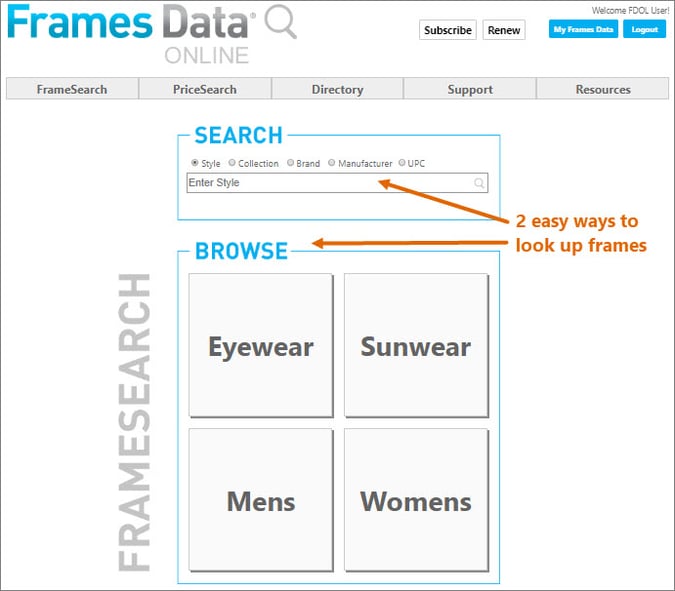 PriceSearch
If you need easy access to wholesale pricing to help you calculate your retail prices, or managed care claim forms, use PriceSearch. You'll need to log in again to ensure that these prices are displayed to only you and your staff. You can search by:
style name
collection name
UPC code
recent price change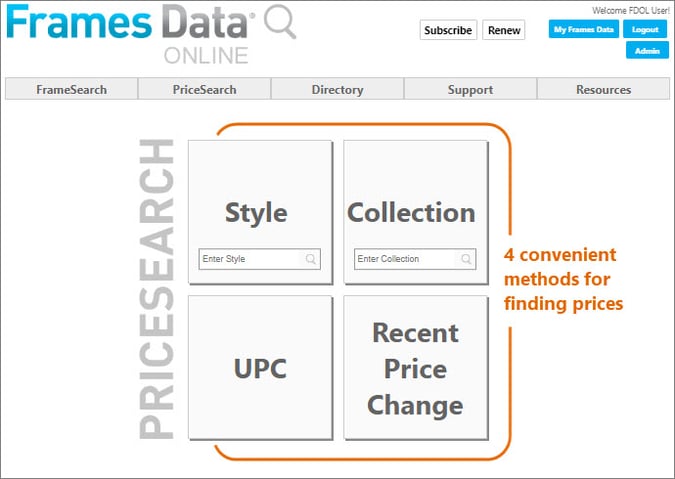 Directory
The directory lets you look up frame supplier contact info, along with an organized list of their brands and collections. It's very simple to use — just start typing in the name of whatever you're looking for, and any options containing your text will pop up automatically. From there, you can click any link to go directly to its listings on Frames Data.

Support
If you have questions, here's the place to find the answers. The support section features:
User Guides for product installation instructions
The Frequently Asked Questions page
System Requirements necessary for all Frames Data products
Available Integrations to show which product is compatible with each practice management software
The Licensing page for assistance with setting up an account for multiple practice locations
The Contact Us page for all other questions or concerns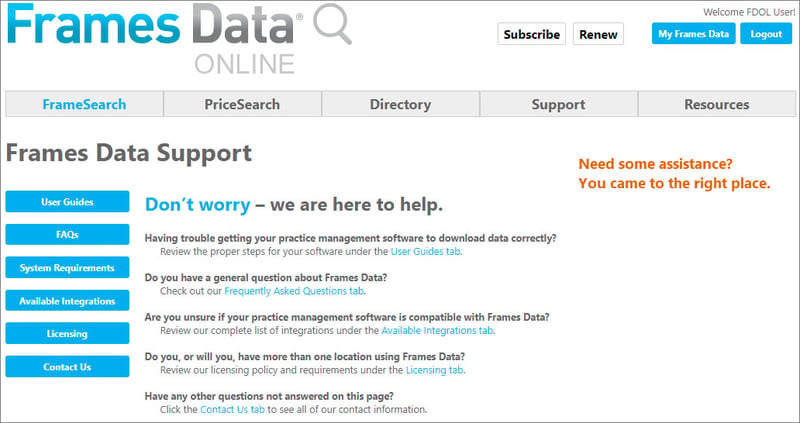 Resources
The Resources page contains even more helpful tools and content. You can find:
The Need More Frame Info? form, where you can report missing or inaccurate frame data
The Blog, which you may already be aware of! Keep in mind you can use the drop-down on the top right to explore by specific topics
A link to the FAQ page, for quick answers on common queries
Featured catalogs, such as WestGroupe, Wilson, Optisource, and Natural Ophthalmics
The current Frames Data Quarterly Big Book indexes, key, and guides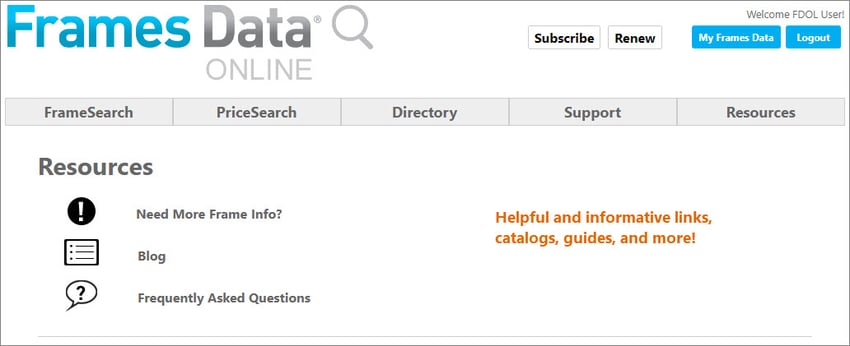 My Frames Data Account
Your My Frames Data button is located on the top right of Frames Data Online when you are logged into your account. Hover over it to view your:
general account and product details, and
My Frame Gallery settings

, or more information about the product if you're not already a Frame Gallery user
Account Settings
Under the My Account Info section, find your general Frames Data account info, such as:
your 9-character username

practice address

email and secondary email

phone number
Contact Customer Service at customerservice@framesdata.com or 1-800-739-7555 to update your account details.
Your My Products section displays:
expiration dates
product account number
a button to renew
a reminder to renew if your account will be expiring soon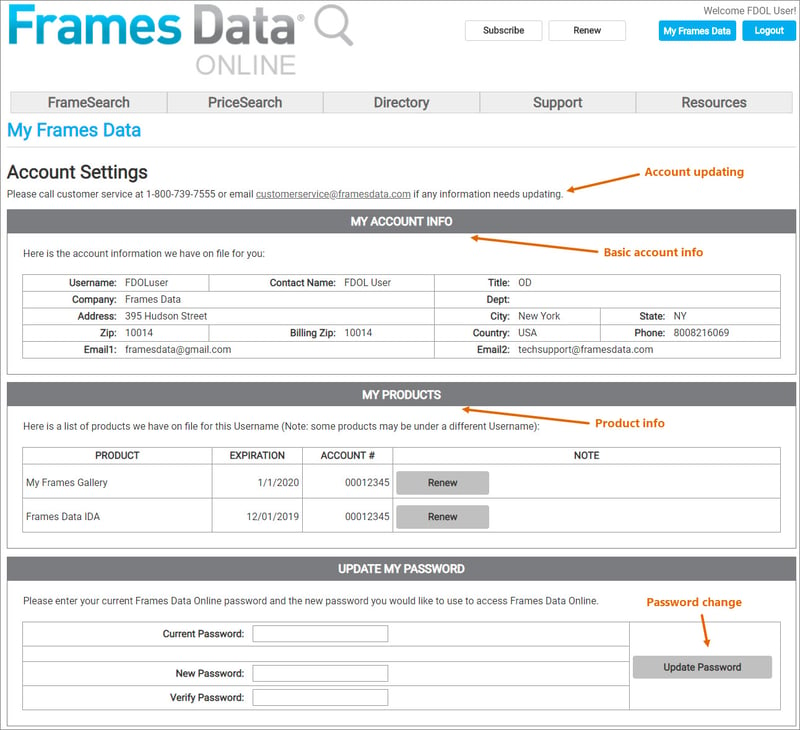 My Frame Gallery
Interested in my Frame Gallery? Click My Frames Data → My Frame Gallery to find more information about the product, or sign up if you're ready to subscribe.
Already a My Frame Gallery user? This is where you can find your Gallery homepage. From here you can:
Adjust your Gallery and Wish List settings
View your Metrics Dashboard
Find FAQs, resources, and tutorials about how to boost your gallery game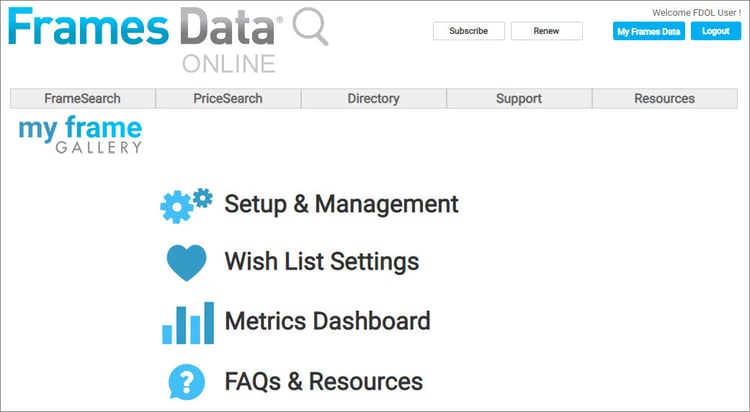 Have questions about My Frame Gallery? Call 1-800-821-6069 ext. 3.