"Protecting the oceans we love to surf, the mountains we love to climb, the Earth we love to explore"
Welcome 2020 with the January Price Book and Dragon by Marchon.
The cover art for this issue introduces the concept of Plant-Based resin, and describes how oil from castor beans is turned into pellets, melted and finally made into eyewear.
Log in to Framesdata.com to explore over 150 styles from this brand.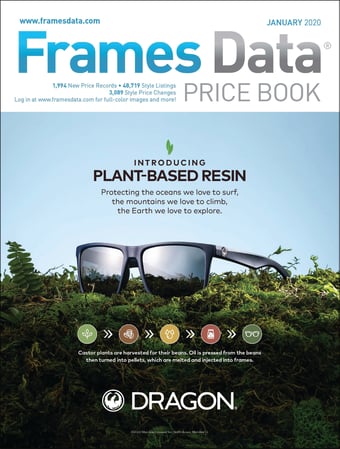 The January Price Book includes:
1,994 New Price Records
48,719 Style Listings
3,089 Style Price Changes
According to the Marchon website, Dragon is...
"

...an internationally recognized, leading performance eyewear brand for those seeking craftsmanship, high-level performance and innovative design.

"
Log in to explore Dragon and other Marchon brands. And don't miss out on Price Book! Subscribe here and have it delivered to your office every month.