Welcome to Our New Blog!
We are so excited about our new blog design and have some new features to tell you about!
New Navigation
The new blog features a sleek drop-down menu, a new navigation bar that moves as you scroll, and links to our all-new Technical Support pages. You won't need to go anywhere else to find the most essential Frames Data information.
Improved Search Function
The search function is now optimized by Google, making it easier for you to find what you are looking for.
Now More Mobile-Friendly
Our blog also has a new mobile design! You can now read all the latest Frames Data posts on your tablet or smartphone while enjoying the new layout.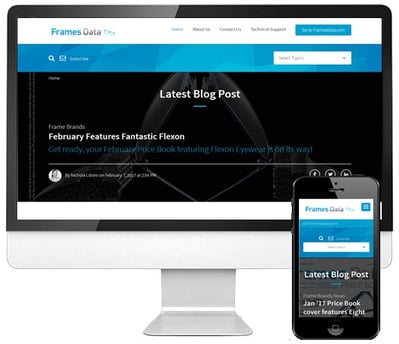 Social Media Sharing
Reading something you think other people could benefit from knowing? Share it on Facebook, Twitter, or LinkedIn by pressing the buttons at the top or the icons to the left.
Frames Data Newsletter
Want to keep up on the latest Frames Data news? You can now get it delivered right to your inbox by subscribing to our all-new newsletter.

To subscribe: Scroll up and press "Subscribe" on the blue bar at the top.
Subscriptions are free!
Leave a Comment
Now clearly marked and easy to submit, leaving a comment has never been easier. If you ever want to share your thoughts on a topic or start a conversation with your colleagues, here is where you do it.
---
We sincerely hope you enjoy the new design.
Stay tuned for new great content coming your way. Subscribe today!