My Frame Gallery Links Virtual Reality and Opticianry

The online frame gallery gives patients more time to browse outside of the office, while saving time for eye care professionals every day.
Denys Meade, CMMP, CPOM, recently shared her experience with My Frame Gallery in an article published by Independent Strong. We have included a short portion of her insightful article below.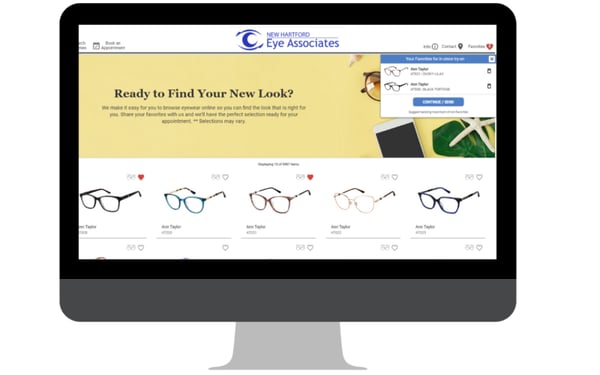 Frames Data works with numerous eyewear manufacturers to create the most comprehensive and up-to-date database of eyewear around. It includes all the detailed measurements, and even the frame imagery. My Frame Gallery, which Frames Data launched in 2017, uses that huge database to create an online showroom that can be branded and customized for any practice.
When Frames Data's product team helped us implement My Frame Gallery in 2020, they explained that the product is designed with these three ideas in mind.
First, it gives patients the opportunity to browse our frames and start the selection process before they even step foot inside the practice.
Secondly, it drives patients back to the practice to have a fitting with a licensed optician, so they can experience our excellent in-store service.
Third, it delivers some pre-appointment intelligence about the patient to the optician in the form of a "favorites" list of frames, which allows the optician to prep for the appointment and have a selection of frames ready.
---
To read the full article, visit Independent Strong.
Ready to get started with My Frame Gallery? Here are 5 ways you can take the next step:
Order now

(existing Frames Data subscribers should call in to add My Frame Gallery to your existing account)
Call us (for single location practices) at 1-800-821-6069 ext 3.
Call us (multiple location practices)

at 1-800-821-6069 ext 4.