New Hartford Eye Associates Thinks 'Outside the Box'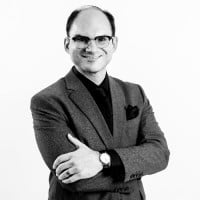 A useful case study for any practice manager looking for inspiration, this Vision Source practice combines virtual fashion eyewear events, online frame browsing, and great service to create success in Upstate New York.
Located in historic Oneida County,
New Hartford Eye Associates
has a history of service dating back over thirty years. In that time, practice owner Dr. Michael Waterman, along with Drs. Steven Ohbaum, Dr. Katie Bono, Dr. Sam Bono, and a dedicated staff of twenty people, have made this a go-to destination for eyewear for the 20,000+ residents of New Hartford and the surrounding greater Utica area.
Boasting excellent patient satisfaction and a reputation for local excellence, the practice has won Best Optometrists from the local newspaper for the past four years running. It's a reputation that was put to the test last year when COVID hit, shuttering the practice between March and April and throwing its future into question.

"Patients love the idea that they can virtually try on their frames and pick their favorite ones..."
But Denys Meade, who's served as New Hartford's practice manager for the last fifteen years, and her staff were more than up to the challenge of keeping the business afloat.
Their secret weapon? My Frame Gallery by Frames Data, paired with some creative, "outside the box" thinking.


"Last March and April we were out, May 18th is when we re-opened," Meade says, speaking to me from an office she describes as "jam packed" in late February of 2021. "I started using My Frame Gallery around there, in May-June. We had a virtual trunk show, and I used Frames Data. During the trunk show I put three different frame lines up, and there was a deal with those frame lines."
The reopening was part of "Glitz, Glam, Glasses," an annual trunk show that New Hartford Eye Associates has hosted for the past eight years running— and Meade was determined that COVID wouldn't get in the way, even if the show had to go online.
"It's usually a big event here in the office but we couldn't do that because of COVID. So I did a special Glitz, Glam, Glasses link to our Frames Data site, and then I email blasted everybody. We did a video on our Facebook page and I emailed that to everybody. Then we put it on YouTube and we used the Frames Data Gallery for that."
New Hartford's Glitz, Glam, Glasses event went online in 2020 and used
the practice's Gallery to feature fashion brands.
The event was a huge success, not only salvaging an ongoing tradition and relaunching the practice following its temporary closure but also illustrating the power of My Frame Gallery, which has since become an integral part of New Hartford Eye's ongoing success.
"Business is different, but having Frames Data helps tremendously," Meade says. She's incorporated the Gallery into the practice's normal intake process, acclimating patients to the new system with instructions on how to use it and getting them used to the program becoming a new part of their yearly checkup and eyewear purchase.
"We have Solutionreach, and we send patients all their paperwork with a link to the our Frames Data Gallery so they can look at frames before they come in," Meade says.
How have patients taken to it?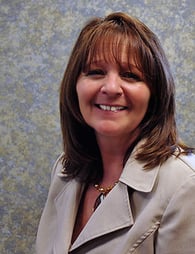 Denys Meade, CMMP, CPOM
of New Hartford Eye Associates
"Patients love the idea that they can virtually try on their frames and pick their favorite ones, email them to us, and then when their appointment time comes we have them all ready for them so they don't have to spend a lot of time running around the dispensary picking out frames."
In addition to providing the link to incoming patients, Meade has also worked to make all current and former New Hartford Eye patients aware of My Frame Gallery through a carefully crafted publicity campaign utilizing multiple platforms.
"We have a huge email following, so I e-mail blast a lot; and we have a huge Facebook following, as well as Instagram. We're also trying to build up a YouTube channel, but I email blast a lot with the link to Frames Data, and we have that right on our website also."
Reopening hasn't been without its challenges, though, especially in light of the current economic situation. "We really are jam packed. Our schedule and everything. We used to be 60/40 with patient self-pay being on top, but now it's kind of the other way around. People just aren't spending money. They're going more toward what their insurance pays and then not contributing. People are nervous, a lot of people aren't working, they're nervous about paying their bills and what happens if they get quarantined. But having My Frame Gallery helps."
New Hartford Eye Associates highlighted Ray-Ban in this virtual Bridal Expo.
Fortunately, the future is looking brighter for both the world in general and for the staff of New Hartford Eye. In fact, Meade and company had all just been vaccinated when I spoke to her, a tremendous relief that eliminates fear of potential exposure and quarantine: "Now at least we don't have to worry about it if patients come in and then we get a call from the department of health that they tested positive for COVID. Now we don't have to worry about it, we don't have to quarantine."
"I love the program; it is so easy to use, so beneficial for our practice.

I don't know how we could do what we do without having them, and I don't foresee us stopping using them."
And even as they begin making plans for a world without isolation and social distancing, Meade plans on continuing to use My Frame Gallery as key part of the practice.
Asked if she would keep My Frame Gallery around, Meade enthusiastically replies "Absolutely! Absolutely. We like it a lot, the patients like it a lot. I don't see it ever going away, no."
The dispensary at New Hartford Eye Associates near Utica, NY.
What does Meade say about the support from Frames Data?
"The people at Frames Data are wonderful to work with. They really help you out a lot. You can be kind of intimidated by new solutions for your practice, but you don't need to worry about Frames Data. They're just wonderful, their support is wonderful. Their customer service is second to none. And I love the program; it is so easy to use, so beneficial for our practice. I don't know how we could do what we do without having them, and I don't foresee us stopping using them."
During one of the country's most difficult times, New Hartford Eye Associates has maintained and developed its sterling reputation for eyecare and patient satisfaction—and My Frame Gallery has been a big part of that accomplishment. For other practices looking to the future and trying to learn how they can distinguish themselves in their own communities, it's a fantastic lesson in perseverance, adaptation, and the power of My Frame Gallery to deliver a unique and rewarding patient experience.
---
Request a demo of My Frame Gallery today! Here are 5 ways to get started:
Order now

(existing Frames Data subscribers should call in to add My Frame Gallery to your existing account)
Call us (for single location practices) at 1-800-821-6069 ext 3.
Call us (multiple location practices)

at 1-800-821-6069 ext 4.