WaveRFID, specializing in inventory solutions for optical practices and using the latest RFID technology, now integrates with Frames Data!
---
NEW YORK, NY. — Frames Data is pleased to announce that WaveRFID has completed an integration with it's Frames Data IDA product.
WaveRFID is a complete optical inventory management system utilizing radio-frequency identification (RFID). Unlike the barcode-based inventory systems used in most optical shops, WaveRFID eliminates the need to scan individual product barcodes owing to a specialized chip and antenna within the frame tag that emits a radio signal picked up by the reader. Current clients report performing a complete inventory count of 1000 frames in less than 10 minutes, which previously had taken them four hours and multiple staff members.
"Our passion at WaveRFID is to make daily processes faster and easier while providing real-time information to make decisions. The integration to Frames Data IDA is another step along the journey" says Darla Shewmaker, CEO and Founder. "It's been a pleasure to work with Tom Doyle and the team at Frames Data."
WaveRFID customers benefit by easily searching or scanning barcodes in the Frames Data database to add items to their WaveRFID catalog. Frames are automatically priced using retail formulas and discounts calculated for order cost.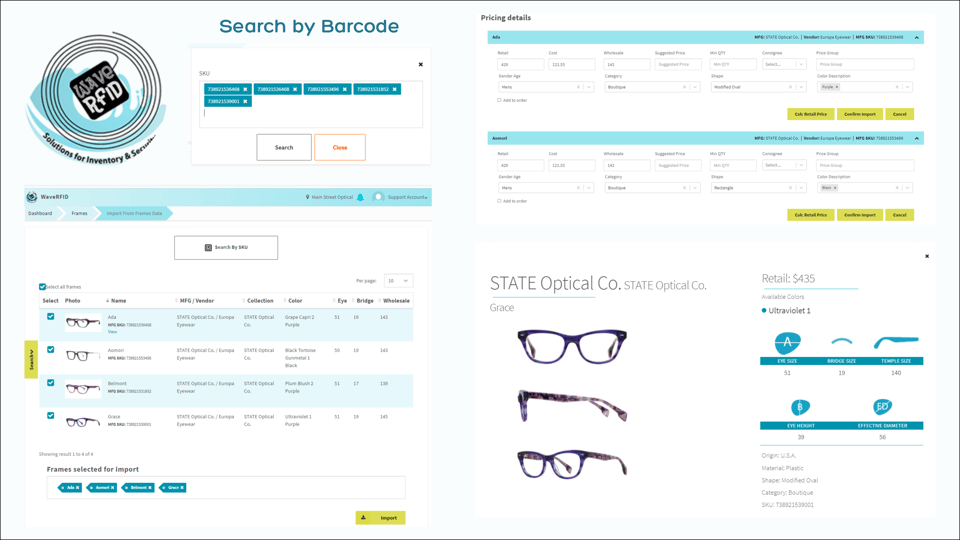 The WaveRFID interface is easy-to-use, but also feature-rich.
WaveRFID is constantly updating information from the Frames Data database for subscribing clients, including the most current wholesale pricing and discontinued dates. This information is then presented back to business owners in dashboard views in order to make critical and timely decisions regarding returns and price changes.
According to Tom Doyle, Frames Data's Director of Marketing, the presentation is impressive. "The WaveRFID team really went the extra mile to create an easy, feature-rich interface that also gives the business owner a lot of useful information from which to manage. Darla and Doug have so much experience in this area, and it really shows in how thoughtful the interface is. "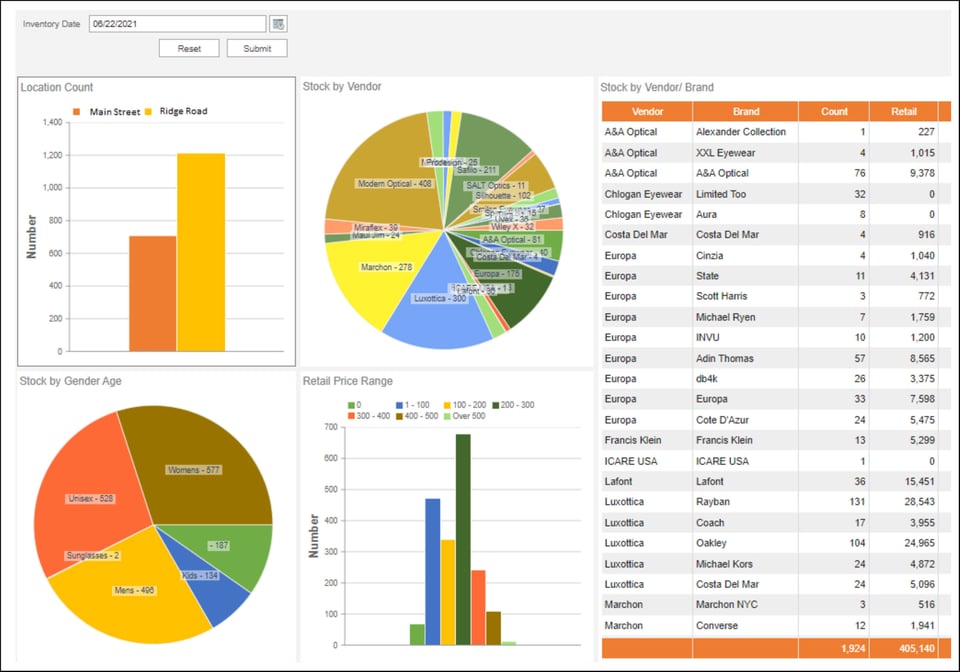 WaveRFID provides dashboard views to deliver detailed information in easy-to-understand formats.
About WAVE RFID
WaveRFID is a cloud SAAS software developer created by optical industry veterans and offering RFID turn-key solutions for inventory management, tags and equipment (readers and security portals).Our software products can be used as a standalone system or in cooperation with other POS applications.The web-based software includes frame and asset catalogs, electronic-ordering, dashboards, reporting, credit tracking, security and theft prevention, counts, and e-commerce. Find out more about WaveRFID - http://www.waverfid.net
About Frames Data
Frames Data has been a trusted partner of eye care professionals, (including opticians, optometrists, ophthalmologists and optical laboratories), helping them run their practices efficiently for over 50 years. Products include Frames Data IDA, My Frame Gallery, and Frames Data SPEX UPC for retail frame dispensaries. For further information please visit www.framesdata.com.