Big improvements to Wish List, multiple location practice sites, and more...
We've just launched several updates for My Frame Gallery, including some significant improvements for practices with multiple locations. Here's a brief run-down of the new features:
Wish List update: color selection
Gallery visitors can now indicate which specific colorway(s) they are interested in, right on their Wish List. This will provide your opticians with more specific information with which to create the "curated" selection of eyewear for the patient.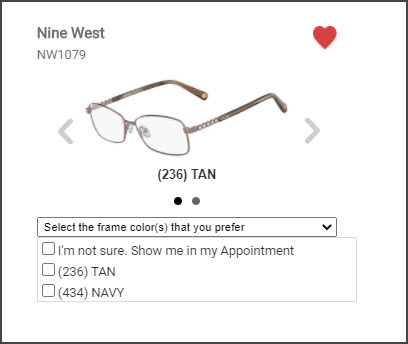 Multiple locations: Contact display for each location
Have multiple locations? We've made two big improvements for practices with more than one location but that use one central Gallery.
The first update is that you can now display address and contact details for each location on your gallery page (this feature does not apply to Galleries that are embedded with an iframe).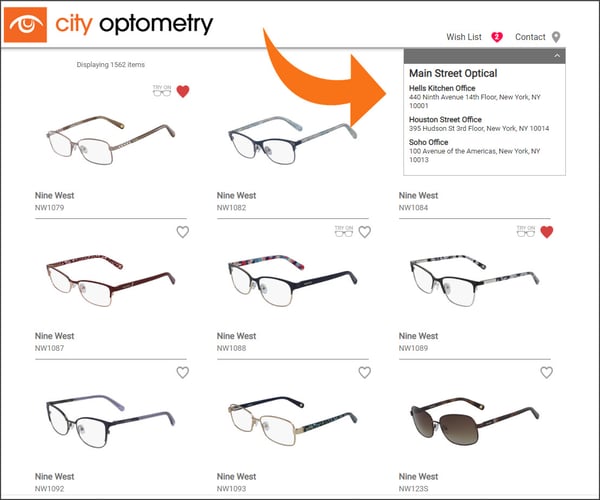 Multiple locations: Direct Wish Lists to the correct location
Patients can now select the specific practice location they plan to visit when they submit their Wish Lists. If you have multiple locations, add all locations during the setup and they will display in a drop down list on the Wish List screen.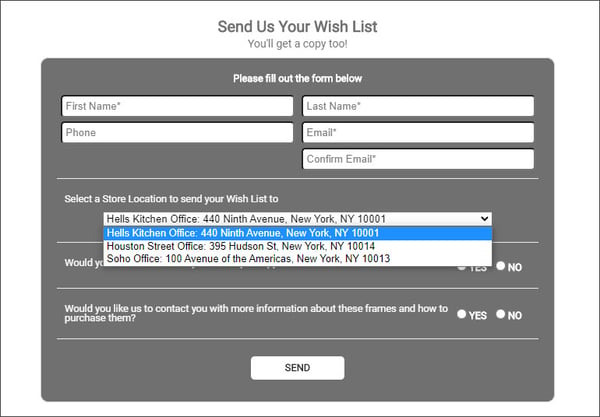 Hyperlink the logo
Take customers back to your main website in one click! You can now add a hyperlink to the logo at the top of your Gallery so it's easy to return there from the Gallery. Simply type in the URL where indicated on the settings page.
New Filter Icon
We heard from several subscribers that patients had trouble finding the search filters. They can now be found under a more clearly labeled "Search Frames" icon in the upper left corner of the Gallery.

---
Request a demo of My Frame Gallery today! Here are 5 ways to get started:
Order now

(existing Frames Data subscribers should call in to add My Frame Gallery to your existing account)
Call us (for single location practices) at 1-800-821-6069 ext 3.
Call us (multiple location practices)

at 1-800-821-6069 ext 4.