Scroll down for suggested email text you can use for your practice.

Many optical retailers are shortening hours or temporarily closing up shop. Meanwhile, patients are sheltering at home for the foreseeable future.
If you are emailing your patients about a temporary closure or shortened business hours, and already have a Frame Gallery in place, please include it in the text of your communications.
It is a way for patients to stay engaged with your practice when physical interaction won't be possible. Once things turn around and your office hours are restored, your patients will remember.
Also, if you have not enabled the Wish List feature, we encourage you to do so now. If you have already enabled it and are still seeing patients, we recommend you remind them to use it before their appointments. If may help to reduce the time they spend in your physical location trying on frames.
Not sure what to say? Here's some example text that you can use in an outgoing email. We invite you to edit it to suit your particular needs, or use as is!
.........................SAMPLE EMAIL TEXT...............................
Dear <PATIENT>,
Due to the current global health crisis, our practice will be temporarily operating with shorter hours of business, and limiting the number of visitors to our retail store.
At this time, sheltering at home is the right thing to do to help us all stay healthy, and we want to support this effort in any way we can.
We also understand that staying indoors at home for a long period of time can be trying, especially if you have children that need to be distracted.
That's why we encourage you to visit our online gallery of eyewear. Your whole family will enjoy browsing and using the virtual try-on feature, and best of all, it is compliant with "social distancing".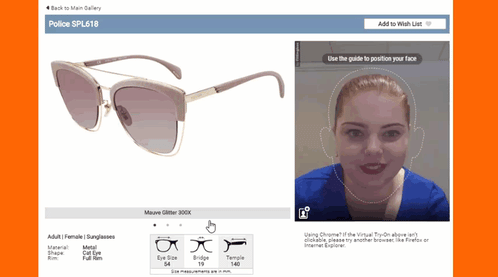 If you already have an appointment scheduled, please follow these guidelines:
If you are feeling sick or have been in contact with someone who may have been exposed to COVID-19, please call us so we can reschedule your exam.
Come to your appointment by yourself. If someone comes with you, please have them wait in the car until your appointment is over if possible.
Please use the Wish List feature on our Frame Gallery in advance of your appointment. This will help us shorten your visit while still providing you with top notch service.
It is our hope that this crisis will soon be over and we will be able to see you in real life back at our store location very soon. But in the meantime, try a virtual visit to our Frame Gallery here:

Insert Your Gallery Or Web Address Here

Sincerely,

The YOUR COMPANY Team

..................................END OF SAMPLE TEXT.......................................
Again, feel free to take this text and tailor it as needed to fit your practice.
You are even welcome to include the little video .gif i've used as well. Click here to download the .gif file as a zip file (you'll need to unzip it to use).
This is a post for My Frame Gallery users. To learn more about My Frame Gallery, visit www.framesdata.com/gallery or click the "Request Demo" button below.