5 Email Marketing Guidelines for Optical Practices
Whenever I have an appointment scheduled with my dentist, I receive an incomprehensible email reminder from the practice. It leaves an impression that is... not great. It's short, generic, and cold, and leaves me with the feeling that they don't much value my business.
Luckily, that email doesn't reflect the actual atmosphere of my dentist's office.
But here's the take away: patient communication can impact how patients perceive your practice.
To help you ensure your emails are leaving the best impression, we've put together five email-writing guidelines that will assist you in creating messages that reinforce positive customer experiences and help build those relationships.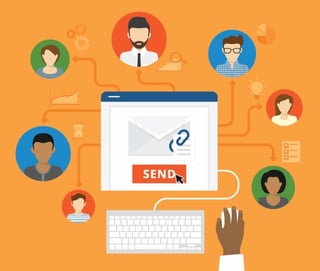 #1. Keep it person to person. There are a couple of reasons why you would want to have your emails sent from a person's email address instead of from an all-purpose email like "staff@companyname.com".
For one thing, spam filters are becoming more aggressive every day. They will frequently assume an email from a general address is spam to be put in the junk file or worse yet, blocked altogether.
Secondly, you want patients to feel that they are being personally contacted by someone on your staff, with a warmer touch than they would get from an email that might be automatically generated or sent in bulk.
If you don't have the ability to send it from a real person's email, you should try to have the email signed by a real person. That will give some of that personal touch feeling, whether it be someone from the front desk, from the dispensary, or the Doctor. Whoever the most appropriate person is really depends on your practice.
If you do use a real person's email, keep in mind that people will occasionally write back! So be prepared to have someone responsible for checking the email and responding when necessary.
And remember, every interaction is an opportunity to build the relationship, so adhere to these guidelines in responses, too.
#2. Personalize. You have their first names, so be sure to use them in a salutation (Dear <first name>,) if your email program makes it easy to insert a field from a contact list.
Even if it actually is a mass email, you want to make it feel personal.
#3. Don't be too formal. Again, every interaction is about building a relationship. Every email is an opportunity for you to interact with a patient outside of the practice, to remind them how much they enjoy seeing you, and to make them feel more engaged and loyal to you.
A very formal tone can come across as cold. Warm it up by using simple contractions ("we're" instead of "we are" for instance).
Look for an appropriate way to have one sentence with an exclamation point ("We're looking forward to seeing you!" for example). Preferably only one exclamation point per email — too many will start to make your email feel inappropriately breathless.
If you keep the tone light and friendly, it will help you build better relationships with your patients than ever before.
#4. Don't be too casual either. Of course, don't go too far trying to communicate on your patients' level. You want to appear warm and friendly, but still keep it professional.
Avoid slang.

Use only one exclamation point (never more than one at the end of a sentence and no more than one per email).

Always use impeccable grammar.


#5. Next steps. Always be very clear on what you want the patient to do next and make it as easy as possible for them to do it. If you need them to call you, give them the phone number. If you want them to book an appointment, tell them how to do that.
If your email program makes it easy to do, include links and buttons that forward to your website if you want them to do something online (like browse your Frame Gallery).
Examples of next steps might be:
Click here to browse our frame selection.

Call for an appointment at 555-555-5555.

Call us to confirm or reschedule your appointment at 555-555-5555.

Your new glasses are ready! You can come pick them up at 444 Main Street near 7th Avenue. We're open tonight until 7pm. We can't wait to see you wear them!
You get the idea! Whatever it is, just make sure the patient's next step is clear.
---
Our next blog post about email will feature how to use email in conjunction with My Frame Gallery, including some example emails that you can "borrow". Coming soon!