Are we missing a frame company, brand, or style? Use our online form to alert us. We'll confirm with the frame company and report back to you.
Frames Data is constantly growing, adding new brands, new frames, and updating existing frames.
Unfortunately, sometimes new frames are introduced, but the frame company has forgotten to add them to Frames Data. And sometimes frame companies have not yet made the decision to participate in Frames Data.
Our operations team, who spends every day working to ensure that the database is as complete and accurate as possible, doesn't necessarily know when a new frame is released if the frame company hasn't told us.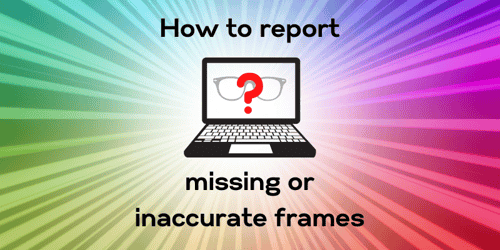 In a case like this, we rely on our customers to tell us!
Once we know something is missing, we contact the frame company and ask for further information and frame samples.
It also helps if you tell the frame company directly. They tend to expedite requests when they've heard from a customer.
You may want to talk to your sales rep or contact the manufacturer by phone or email (you can look up their contact info in our online Directory), in addition to submitting your request to Frames Data. This way, they get the request from Frames Data AND from their customer, so it's more likely to receive attention.
Related: Use the Frames Data Directory to find frame company contact info and more
If your practice comes across frames that should be in Frames Data, or even frames with missing or inaccurate information, please report it to us, using the following process.
Step 1: Log in at framesdata.com
The login section can be found in the top right of the home page.
Step 2: Confirm
If you are reporting a missing frame manufacturer, brand or style, please confirm that it is really is missing by using FrameSearch.

Keep in mind that the frame company may have used an unexpected spelling or may have listed frames that you expected to find in Brand X under Brand Y.
Suggested reading: 2 Tips for Accurate Searching on FrameSearch
In fact, you may also want to visit the Directory, which will show you a list of all Brands and Collections by frame company. It's very handy if you aren't sure of spellings, to determine which brands fall under which manufacturers, or to retrieve contact information for frame companies.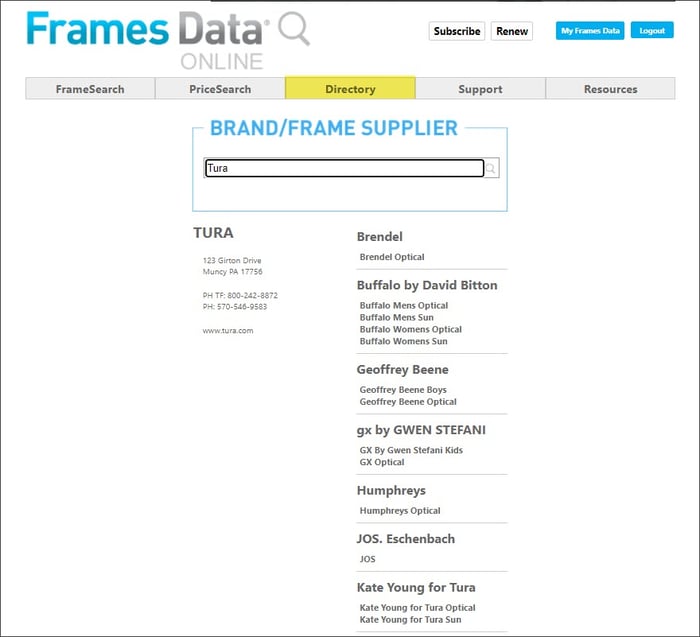 Step 3: Navigate to the "Need more frame info" page
Go to "Resources" on the far right of the main navigation. Once there, you'll see "Need More Frame Info?". Click on the link to go to the form.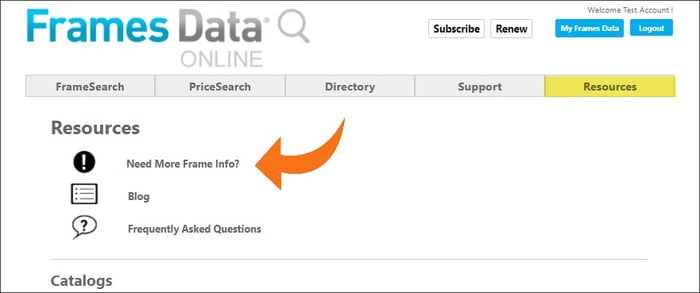 Step 4: Select a category
Are you reporting missing Manufacturers/Brands or Collections? Styles? Images? or have you found inaccurate frame details?
Select the category that matches what you are reporting to us.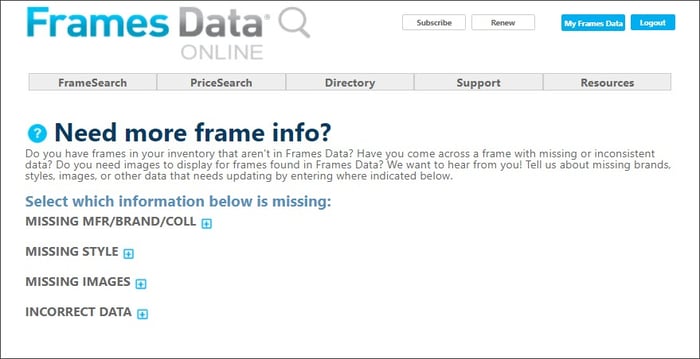 Step 5: Add Details
Fill in the fields that appear once you select the category of your request.
If you are reporting missing style, images or incorrect data, we assume you are reporting information for a manufacturer that is already in Frames Data. Type in the first few letters and our database will suggest possible matches for Manufacturer/Brand.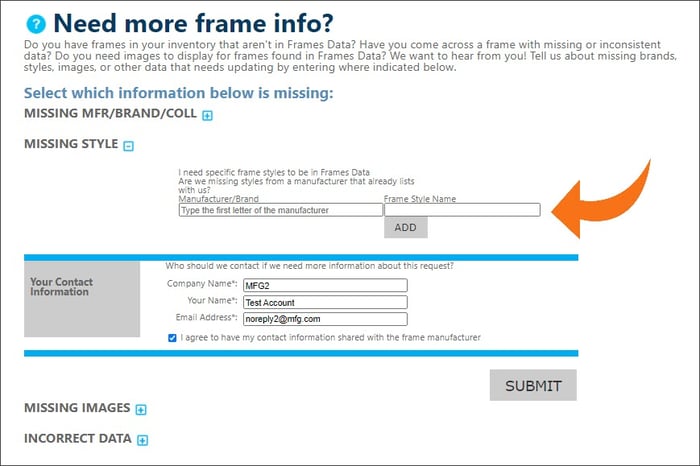 Step 6: Submit
You'll notice your practice details are already filled in based on your subscription information. If you have a different contact from what is displayed, enter it there. Also, please note that the frame company may want to know who is requesting this data; if you prefer to not have your information shared, please be sure to check the box.
When you're ready, click SUBMIT in the lower right. You'll receive an email confirming your submission, and we'll follow up with additional information or updates from the frame manufacturer as we receive them.