Frames Data has added a new "Price Product Tag" feature for My Frame Gallery users.
This new feature will allow users to display an icon on each frame in their virtual Gallery, indicating a general price range/description for that frame (but not the actual retail price).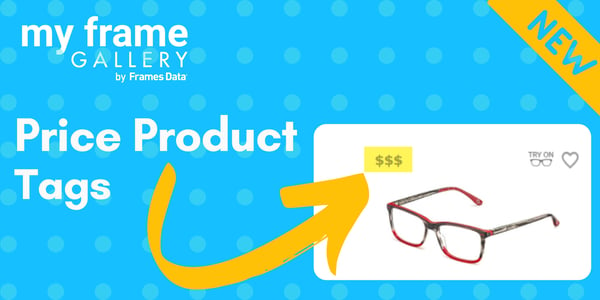 Once you turn this feature on, your practice can assign icons ($,$$,$$$, and $$$$) to signify price ranges of your choosing. Here's what you need to know:


This feature will allow you to label each frame on the gallery with a "$" icon, so patients can have an idea of price range without revealing exact retail pricing.



You will be able to assign your own price slices (price ranges, based on wholesale price).


You'll also set your own labels to communicate the definition of each range. In this example, we are using Budget, Mid-Range, Designer, and Luxury as descriptive labels for each category.





This feature is optional. To use it you must set your "price slices" and turn it on.
Request a demo of My Frame Gallery today! Here are 5 ways to get started:
Order now

(existing Frames Data subscribers should call in to add My Frame Gallery to your existing account)
Call us (for single location practices) at 1-800-821-6069 ext 3.
Call us (multiple location practices)

at 1-800-821-6069 ext 4.