This guest post is provided by our friends at Innereactive, a full-service marketing agency specializing in solutions for the eyecare industry.
It takes 3-5 weeks to develop new habits, and the COVID-19 pandemic has had a lasting effect on consumer behavior and purchasing trends that experts expect to last for the foreseeable future. As organizations adapt, their watchwords must be safety, trust, convenience, and relevance.
On average, almost two-thirds of an independent optometric practice's revenue comes from product sales. A trend of patients walking out with their Rx can negatively impact a practice's bottom line. Many practices have implemented or are considering implementing an online store to sell more merchandise. But selling eyewear online lacks the personal touch and some of the technical capabilities that selling in your optical offers. So, how do you strike the right balance?
An online gallery from My Frame Gallery offers the benefit of showcasing your merchandise, while taking into consideration the need to perfect the patient's purchase within your optical setting.
Consumers are looking for the ability to do their research online in advance of their appointment - just like they might now shop for clothing or groceries. By showcasing your frame selection on your website, you offer the patient the ability to take their time browsing from the safety of their home, and the ability to show off your robust collection to help speed up the transaction once they are in your office.
Bundling an online gallery with patient text reminders and emails to view your selection online can create in-office efficiency and help boost your optical sales.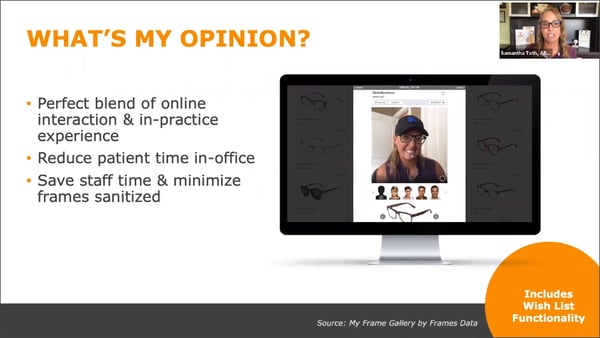 "[It] help[s] inform and educate our patients in a way that still gives them that fun online interaction, and allows them to do the research and get excited about it...but we still keep control of the quality, the measurements, and it's inline with the mission of what most independent eyecare practices are doing."
—Samantha Toth, ABOC of Innereactive discussing My Frame Gallery by Frames Data
Learn more about the opportunities and challenges of selling eye care products online, recommended tools, and how to create strong online sales incentives that don't cannibalize in-office optical sales by watching Innereactive's Webinar, The Opportunities and Challenges of Selling Online.
---
Innereactive is a marketing and design agency based in Grand Rapids, MI. Services include award-winning website design, social media marketing, and in-office marketing solutions that will help you attract more new patients, bring them back more often, increase capture rate, and grow optical sales. To learn more, visit www.innereactive.com.