Your competition displays eyewear online (and you should too)
The Omnichannel approach has become "expected" and not just "nice to have". It's time to get your practice onboard.

Recently, I visited a local New York City location of a major optical retailer.
A salesperson asked if I needed help, and I asked if the frame I was looking at was offered in other colors. She went back to the front desk, retrieved a tablet and pulled up their website.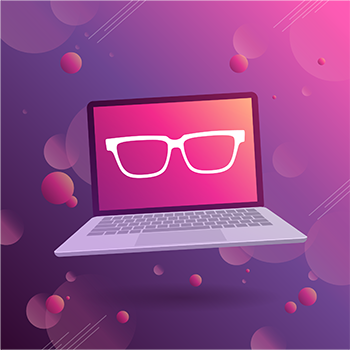 She found the frame I was holding, and then handed me the tablet (attached to the table with a curled wire lock) to view the other colors available. She told me that they didn't have the frames in stock, but they could be ordered.
This is the reality of the marketplace now. Online and in-store continue to both blur and complement each other.
Yes, this was a large retailer with a big budget and reach. But like it or not, the trend is here to stay, and will soon be an "expected" and not just a "nice to have".
Everywhere you turn in retail you can see the trend happening. At Frames Data, we wondered how widespread that trend is in optical retail, and so we decided to do some informal research.
We used VM's 2019 Top 50 U.S. Optical Retailers Report, an annual report published by Vision Monday, as a starting point for our research. From there, we looked for major optical retail brands that display eyewear to consumers online. Keep in mind that:
This is a mix of full e-commerce sites as well as those that provide browsing of frames only. We did not limit our inclusion criteria to sites that enable a completed sale through a website. Though a small percentage of retailers are indeed selling glasses online, our list also includes sites that offer a browsing/catalog experience without the full e-commerce build.


These are retail brands. While the

Vision Monday work

was the starting point, you will notice that our list is specifically retail brands with consumer facing identities and websites. The Vision Monday report, which

ranked retailers

on the size of their overall business, includes

corporate entities that themselves may not be a consumer-facing brand, but do own/operate retail optical brands.
So without further ado, the list that follows consists of major brick and mortar retail brands that display eyewear to consumers on their websites:
Major Optical Retail Brands That Display Eyewear Online
So as you can see, the trend is already taking hold with larger optical retailers. That wouldn't be happening if these retailers didn't firmly believe it was what they needed to do to remain competitive.
The Good News
As I've said in our ebook, How to Compete in the Age of Online Optical, there's a way for independent retailers to compete and not break the budget. It's Frames Data's product, My Frame Gallery, and it's made for independent retailers that want to secure their place in a future where retail has integrated the on and offline customer experiences.
My Frame Gallery is:
for optical retailers that want to stay competitive
so easy to set up, you can have it ready in well under an hour
priced to be affordable for independent optical retailers
Request a demo today! The sooner you start the sooner you reap the benefits. Here are 5 ways to get started:
Order now

(existing Frames Data subscribers should call in to add My Frame Gallery to your existing account)
Call us (for single location practices) at 1-800-821-6069 ext 3.
Call us (multiple location practices)

at 1-800-821-6069 ext 4.