Announcing new features, including additional traffic reports, a built-in QR code, and customizable title and meta descriptions for better search engine optimization.
....................................................................................
We've just launched the latest update to My Frame Gallery. Here's what's new:
Source and Location Metrics
If you've seen your metrics report online, you probably already know that it includes important business info about Sessions, Page Views, your top brands, as well as demographic info about your visitors.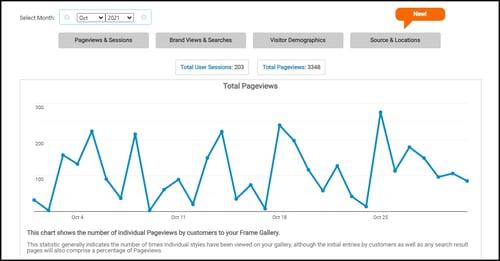 An example of the Pageviews report from the Metrics Dashboard.
Now we've added both traffic sources and locations to your stats. Locations will show you the top 10 cities that your visitors are viewing your Gallery from.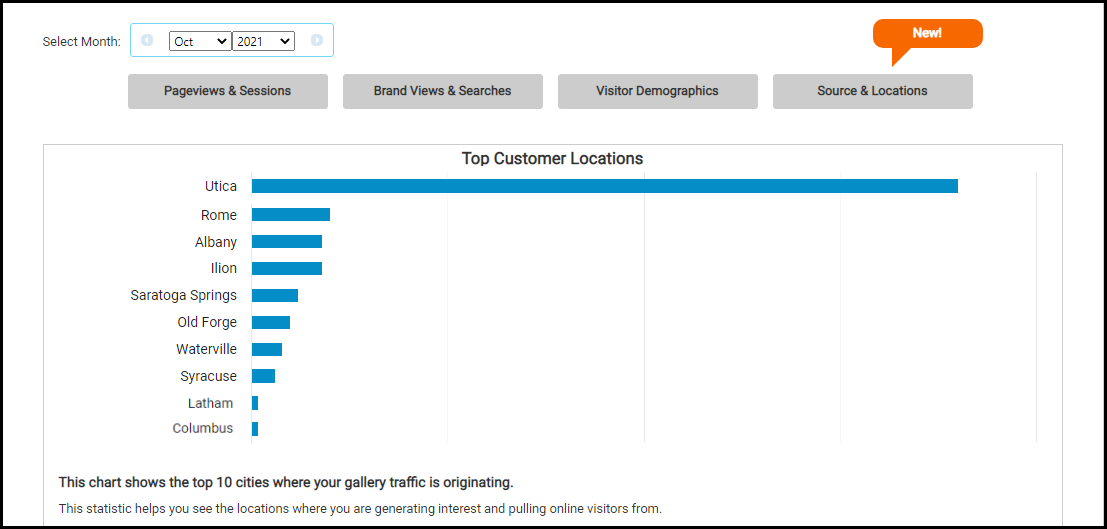 The Gallery Source report will show your Gallery's top traffic sources. You can use this report to assess what websites your visitors are coming from, and how your efforts at generating traffic from those sources are doing.
For instance, if Facebook is a major component for how you generate traffic to your Gallery, you would expect to see Facebook in the list of sources, and the number of sessions that Facebook generated that month.

You'll find these included in the Metrics Dashboard. To access it, log in and visit the main My Frame Gallery landing page, then click on the Metrics Dashboard towards the bottom (look for the orange call out).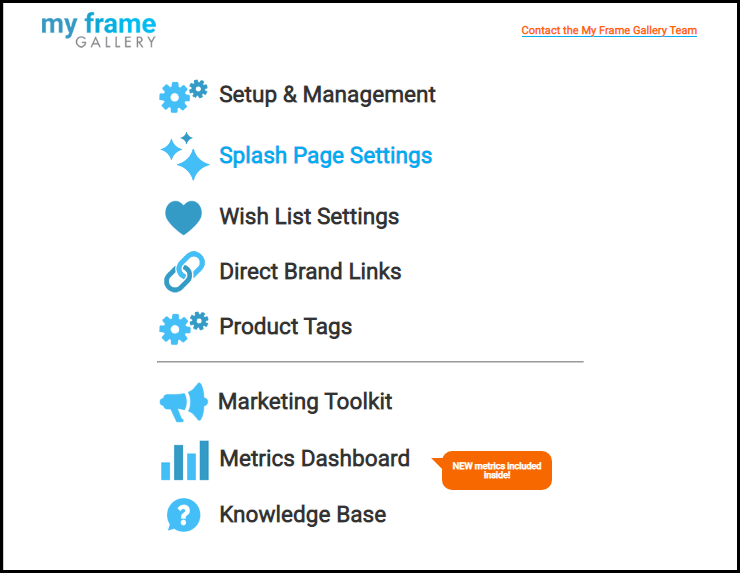 Built-in, Downloadable QR code
Many businesses are using QR codes to seamlessly deliver online experiences to their customers. We recommend using a QR code in any printed material (brochures, cards, posters) that is handed out or viewable to patients. It is a handy way to give patients a shortcut to your Gallery.
Now there's no need to figure out how to create your own QR code, because we've built it into the interface. All you need to do is download the file and use it.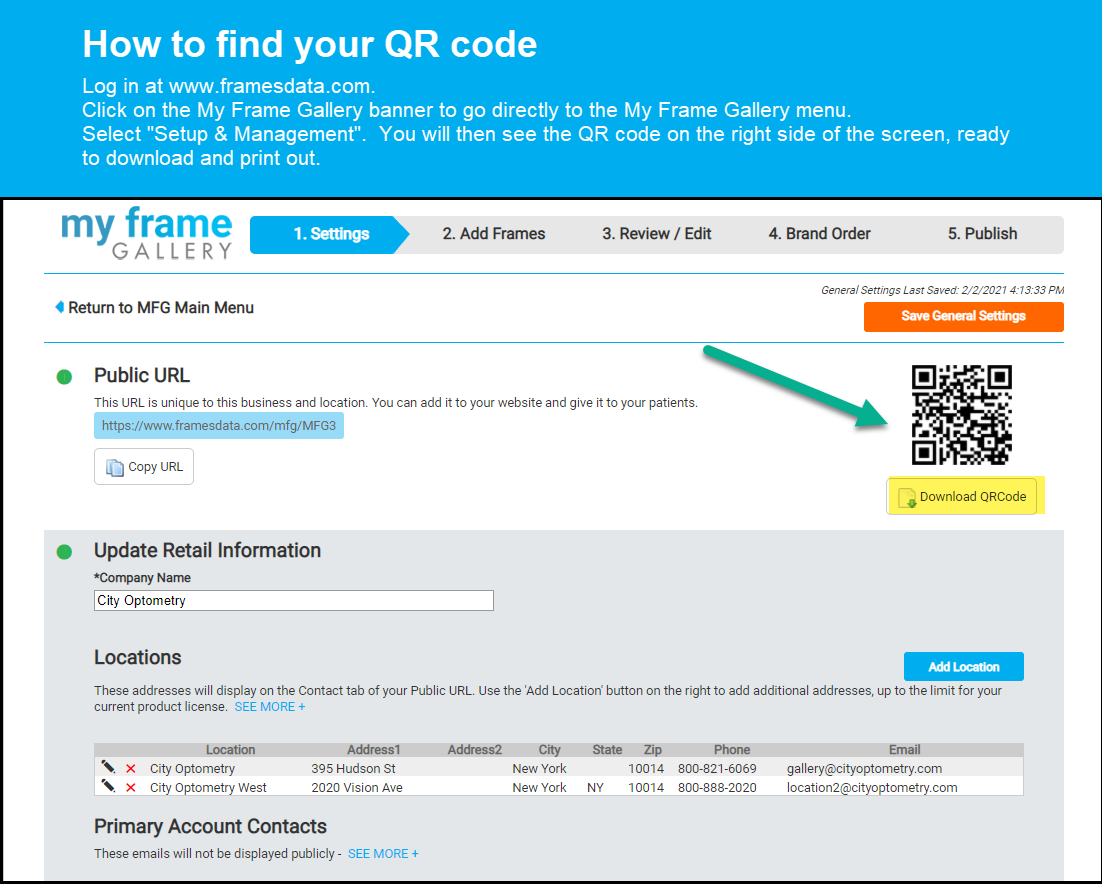 SEO Information: customized title and meta descriptions
Ensure that search engines show the perfect text to describe your practice with this update. You can now customize the Meta Title and the Meta Description. Search Engines pick up these bits of text to display in search results.

You should include specific key words that patients may be searching for. Some examples might pertain to frame specialties, your geographic area, the words "optician", "Optometrist", "glasses" or "eyewear" a special tag line that your practice uses.
"Your local optician serving Bloomington, NY and the greater tri-town area. Browse glasses and sunwear on our online Gallery. Kids glasses are our specialty!"
Keep in mind that the Title is limited to 80 characters and the Description is limited to 160 characters to ensure that the text will not be cut off in the search engine results.
You'll also want to keep in mind that Google will use this description text in combination with other pieces of information on the page. For instance, it may also pick up text from your splash page or footer text to supplement the description text.
Lastly, you'll also want to keep in mind that it will take some time for you to see the changes to your text reflected in the actual search engine results. Essentially, search engines periodically "crawl" through sites and make updates as they get to them, and the process is not instantaneous.
Not sure what to include in your text? When you log in, you'll see that we've provided some pre-written text that can be used as is. You can simply use our pre-written example, or take our text and add your own flair!
..........................................
Ready to get started with My Frame Gallery? Here are 5 ways you can take the next step:
Order now

(existing Frames Data subscribers should call in to add My Frame Gallery to your existing account)
Call us (for single location practices) at 1-800-821-6069 ext 3.
Call us (multiple location practices)

at 1-800-821-6069 ext 4.