Price Book Update will contain New and Changed wholesale pricing, and will be produced in alternating months beginning with the April 2023 issue.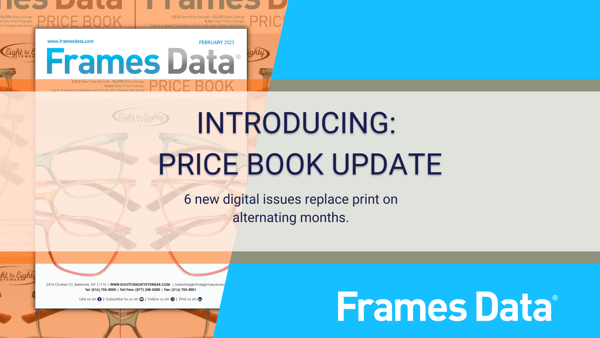 Did you know that Frames Data records price changes every single day? It's true! And even better, once we record them, those changes are live on our website the very next day.
But for now, many people still use a print Price Book as well as the PriceSearch. Currently Price Book is included as part of both Frames Data 365 and Frames Data DVD subscriptions.
But as more and more of our subscribers adopt PriceSearch as their preferred method for looking up frame prices, we will be changing the Price Book to reflect that.
Learn more about PriceSearch with these blog posts:
Beginning with the March 2023 edition, the print version of the Frames Data Price Book will be produced and mailed every other month. In between print editions and beginning with April 2023, we will publish a digital Price Book Update that will contain any new and changed prices that month.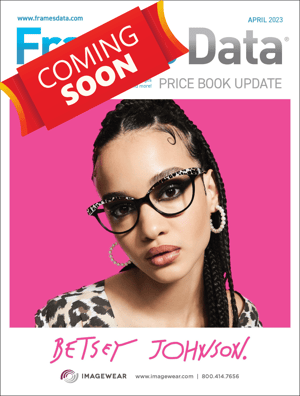 That means the March edition (mailed end of February) will be a full print Price Book, the April edition will be a digital update, the May edition will be a full print edition, June will be a digital update, July will be a full print edition, and so on. See below for the complete schedule.
Update: Didn't get the email with the link to the new update? As a back up, you'll be able to access it when you log in at FramesData.com

The new Price Book Update will list all new or recently changed wholesale frame prices that have been recorded in our database in the previous month. A searchable .pdf formatted document, the Price Book Update will be delivered to subscribers via an emailed notification, prompting users to retrieve the new issue.

The Update will be in the same Price Book format, but will be shorter since it will contain only new or changed prices. And since it will be shorter, it will be easily printable for users that prefer to use paper.
The Price Book Update will also include a new bonus editorial section!

Subscribers will receive an email directing them to the digital Price Book Update when it is released (in late March 2023). Here is the 2023 schedule:
Price Book 2023 Schedule

January

Print Edition

February

Print Edition

March

Print Edition

April

Digital Price Book Update

May

Print Edition

June

Digital Price Book Update

July

Print Edition

August

Digital Price Book Update

September

Print Edition

October

Digital Price Book Update

November

Print Edition

December

Digital Price Book Update
---